Headteacher's Welcome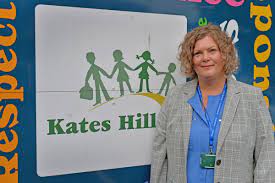 It is a privilege to be the Headteacher at Kates Hill Community Primary School and I am delighted to welcome you to our school website.
Kates Hill is a truly amazing school. The children are fantastic, the staff are dedicated and I am fortunate to be supported by an excellent community who care passionately about the school.
My priority as Headteacher is to raise educational outcomes for all by ensuring that standards in the school constantly progress. I am passionate about teaching and have high expectations. Being a parent myself, I fully appreciate how important school is in preparing children for life. I will strive to ensure that Kates Hill supports children to be whole, rounded individuals and endeavour to give your child the best chance to discover and unlock their hidden talents.
Kates Hill has access to a rich, relevant curriculum which will motivate and prepare pupils for life, providing a high quality, holistic education for all. Our aim is to nurture aspirations, provide a learning environment where children can thrive and to continue building an excellent team to deliver our ambitious targets.
One thing that makes Kates Hill stand out is a focus on core values through a values based education. These can be found throughout everything we do. They help to spread positivity and allow children to make appropriate choices to prepare them for the wider world.
As part of Dudley Academies Trust, we have the backing of a large team of teaching and professional experts to help us excel across the board. The Trust offers us support in areas such as teaching & learning, building and maintenance, finance, data, HR and IT.
We know how vital it is to work in partnership with parents, so please do not hesitate to approach me if you have any issues.
Thank you for taking the time to visit our website. If you would like to visit us in person, you are always welcome. Please contact us and we will be happy to show you around.
Thank you,
Mrs Harvey
Headteacher