Online safety
At Kates Hill we encourage our children to use RMUNIFY which is a safe environment for children to use when they go online. If you have a website that your child uses on a regular basis let us know and we can add a tile for you.
In school, we use SMART rules. Click on the image to see what they are!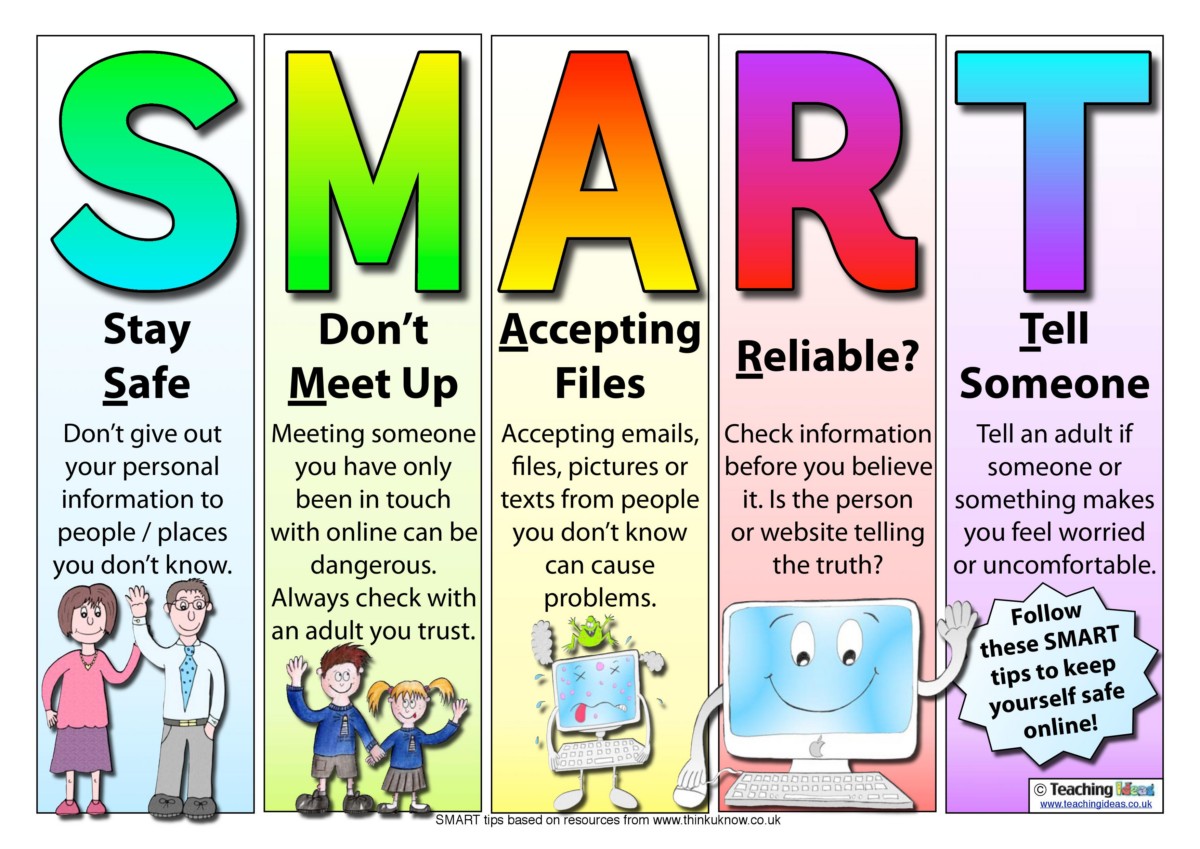 Advice for Parents/Carers
Supervise your children whilst they are online.
Always ensure you know passwords for your children's devices.
Know what your child is doing online. E.g. Gaming, Fortnite, YouTube, Google etc. These platforms have childsafe features that you can switch on.
Be aware of who your child is talking to online (people are not always who they say they are).
Check their devices regularly to ensure they are using them safely.
Check website history regularly to monitor the websites your child is viewing. Do not allow children to delete their history.
Check your Internet Settings at home. In school, sites are filtered. At home, filtering depends on your settings.
Contact your Internet Service Provider (ISP) to help with Parental Control settings.
Give your children time limits. It is recommended that a break should be taken every 20 minutes of using their devices.
Don't allow children to have their tablets in their rooms at bedtime.
General Online Safety
The UK Safer Internet Centre is a great place to start for advice and resources.
The NSPCC has a very wide range of help with keeping children safe and what to do if things go wrong.
Interland is a game designed by Google as a fun way for young children to learn about online safety BIL- Play Interland
Cyber Academy is an easy way for 7 to 10 year-olds to learn practical skills that will help to keep them safe online.
Jessie & Friends helps parents and carers to explain online safety to 4 to 7 year-olds. It is on the CEOP thinkyouknow website, which has plenty of other information and resources for parents to use.
Parent Zone has a variety of resources that you may find useful to explore.
E-Safety Videos

Parents' e-safety tips for children under 5.

Parents' e-safety tips for children from 6 to 10 years.

Parents' e-safety tips for children from 11 to 13 years.
How to set up parental controls on networks, gadgets, apps, and websites
Whether it's a smartphone, a search engine, a social media platform or a games console, Internet Matters shows you how to set the parental controls that will help to keep your children safe.
Safety on social media
You tube offers young people the chance to be content creators as well as consumers (follow You Tube influencers). Here is some useful information to help adults support their children, including the rules associated with creating an account and associated privacy settings: what-if-my-child-wants-their-own-youtube-channel
TikTok is widely used among teenagers. Find out how to keep your children safe. If your child has a TikTok account, make sure that they have entered their correct date of birth!
The dangers of livestreaming
The NSPCC has a clear explanation of what livestreaming is and how to keep your children safe.
Help from Google with online safety and safe searching
Google Family Link has practical tools that will help you to manage your child's online activity. Google SafeSearch enables you to filter out search results that you wouldn't want your child to see
Reporting online abuse
Are you worried about online sexual abuse or the way someone has been communicating with you online? Make a report to one of CEOP's Child Protection Advisors.
Our 'Acceptable Use Policy'
Electronic Acceptable Use Policy (AUA) for pupils
When I log on, I agree that:
I will only use my own username and password to log on. I will keep my password secret.
I will only use websites that have been suggested by the teacher or a grown-up.
I will not give out personal information; tell people where I live, my phone number or where I go to school without permission from the teacher/parent.
I will always ask an adult before sharing photos. I will only share photos that I don't mind everyone seeing.
I will tell a grown up if I feel scared or unhappy about anything I find when using school computers/laptops.
I will respect school property; I will use the internet, computers and laptops and all other equipment properly.